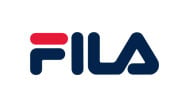 Fila Sunglasses
Shop the best Fila Eyewear and sunglasses for women and men available at Sunglass Culture online and in stores Australia! ✓ Free Shipping on Fila sunglasses and ✓Fast Delivery. Sunnies now, pay later with: ✓AfterPay ✓Zip Pay ✓ OpenPay. Sunglass Culture is the first to market the latest and newest arrivals of Fila Eyewear. We have a big range of polarised and non-polarised sports glasses from one of the world's biggest sports brands, Fila.
Display 52 Products per page
Fila Eyewear is one of the leading sportswear brands in the world. Their mission is to provide the best performance sportswear apparel and sunglasses for those who love the sporty, active yet fashionable style. Established in Italy 1911, Fila created a brand that fuses Italian heritage style and modern trends, giving customers a unique and distinctive look. Fila's sunglass range upholds the same European branding of fashionable street and sportswear style. They also have a collection of polarised lenses perfect for activities under the sun. Find the best styles in Fila frames such as wrap-around, sportswear, wayfarer, and aviators!
Sunglass Culture has thousands of styles to choose from major brands such as RayBan, Versace, Prada, Serengeti, Carrera, Maui Jim, Dior, Gucci, Oakley, Quay, Le Specs sunglasses to name a few. We bring out the best sunglass selections for driving, sports, fishing, fashion, cycling/running, and everyday sunglasses! Sunglass Culture also stock polarised sunglasses and blue light blocking eyewear.
You can visit some of our selected stores stocking Fila Eyewear in Westfield Coomera (Gold Coast), Westfield Chermside (Brisbane), and Mandurah Forum (Mandurah).