Police
Police Sunglasses
Shop the best selection of Police Eyewear at Sunglass online or try them in stores around Australia: Westfield Chermside (Brisbane) and Westfield Coomera (Gold Coast). Free Shipping and Fast Delivery with Australia orders over $99.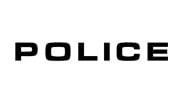 Show Filters
Showing 1–48 of 55 results
Police is a lifestyle brand known for thriving on bold, daring, and rebellious style. With its strong Italian roots combined with American pop culture, Police became a symbol of rebellious freedom and individuality especially with its men's and women's sunglass range.
Showing 1–48 of 55 results