Fila
Fila
Fila Sunglasses
Shop the best Fila Eyewear and sunglasses for women and men available at Sunglass Culture online and in stores Australia! Free Shipping and Fast Delivery on Australia orders over $99.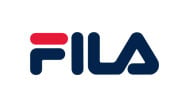 Show Filters
Showing the single result
Fila Eyewear is one of the leading sportswear brands in the world. Their mission is to provide the best performance sportswear apparel and sunglasses for those who love the sporty, active yet fashionable style.
Showing the single result